Google My Business Tips to grow your search engine optimization and ranking on Google Maps. Stay ahead of the competition with our infographic about GMB. Follow these DO's and DONT's when improving your ranking on Google. Google is the most used search engine in the world. It is important to learn how to rank higher as your business grows if you want to improve.
How to Optimize Google My Business?
Be sure to follow the Google MyBusiness guidelines to avoid problems and improve your position on Google: https://support.google.com/business/answer/3038177?hl=en
Your customers will notice if you are ranking high on Google and you do not want your competitors to be higher than you. If you follow all of these Google MyBusiness tips, your business will do better in the long run!
GMB is a part of the overall Google SEO. So that ranks your website for your respective keywords. And this infographic is here for you to better keep a checklist of things to do to ensure you rank high in your market/industry.
How to Create Content for GMB?
There's a lot of things to keep in mind while creating content for your website / GMB listing, including but not limited to alt tags, captions, geotagging your images, and posting frequently with social media planning/scheduling apps and using the respective hashtag keywords to rank higher in social media platforms like Twitter as well.
Post Frequently at GMB
All in all, you'd need to keep posting frequently, optimize your business listing description, labels, and address and phone number to be consistent with your GMB listing to prove to Google that your listing is legitimate, and that NAP (Name, Address, Phone Number) are all consistent, including your website address.
SEO and GMB ranking is a marathon, not a sprint. That's why it's always good to keep in mind the very top good to knows and be consistent, with ensuring not just your website SEO to align with SEO best practices, but also extend that same work into Google Listing best practices, to try and secure your place in the "Snack Pack" for the 3 map listing. This is mostly or in large part influenced by geographic location to your storefront/address, but also the SEO definitely plays a part and they consider both the website SEO as well as the GMB "SEO" as well.
Avoid making mistakes by reading our blog about how google my business geotagging works.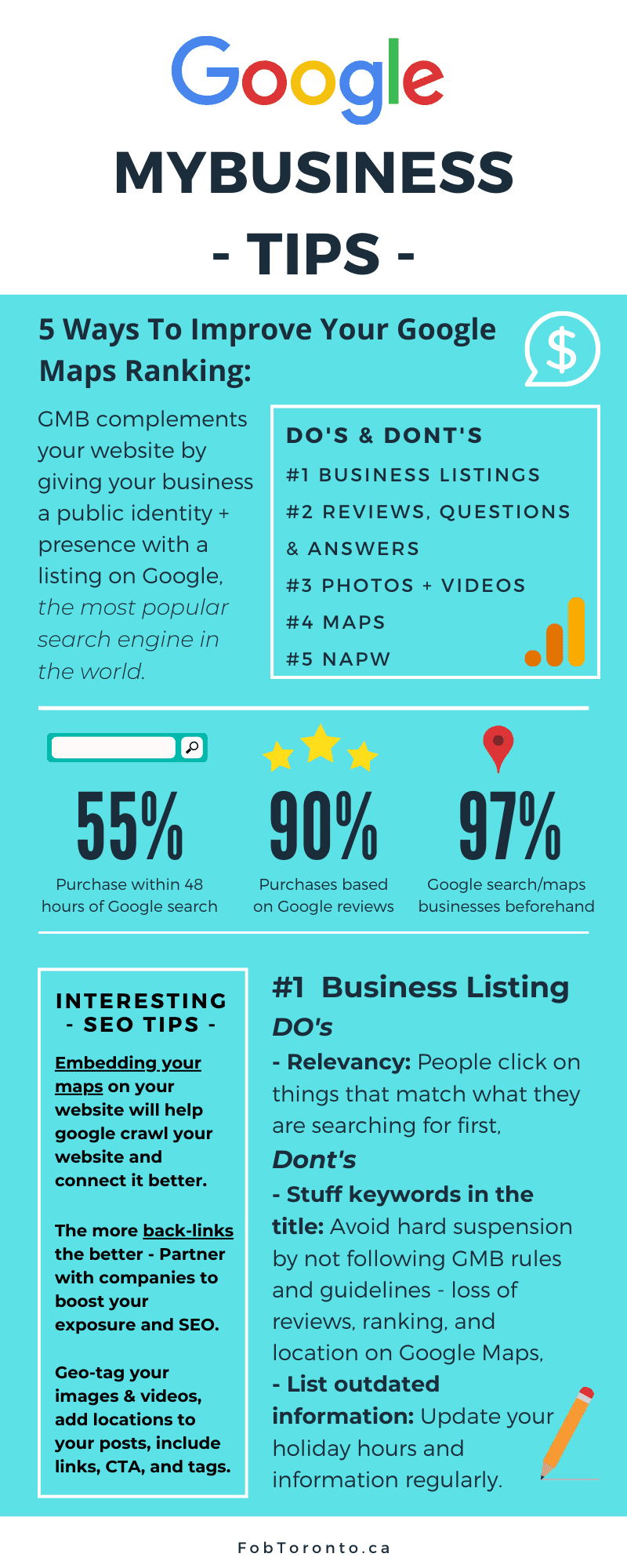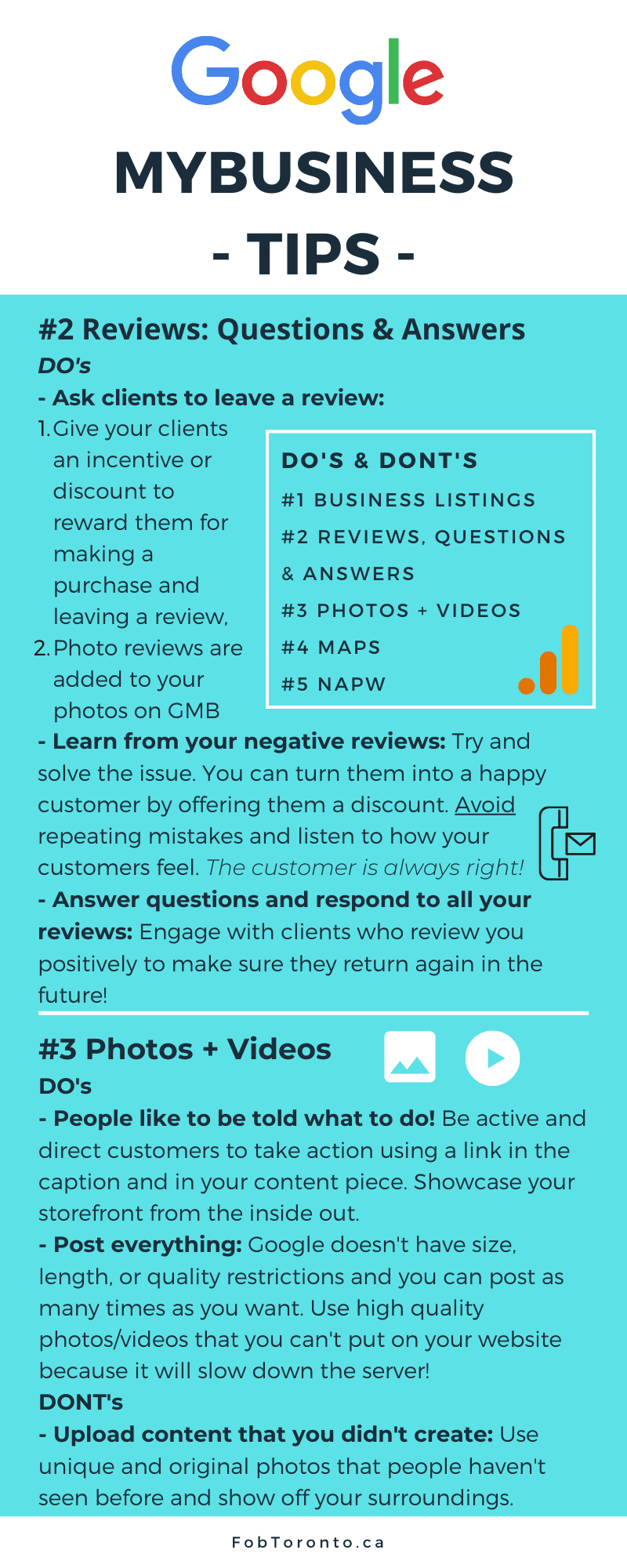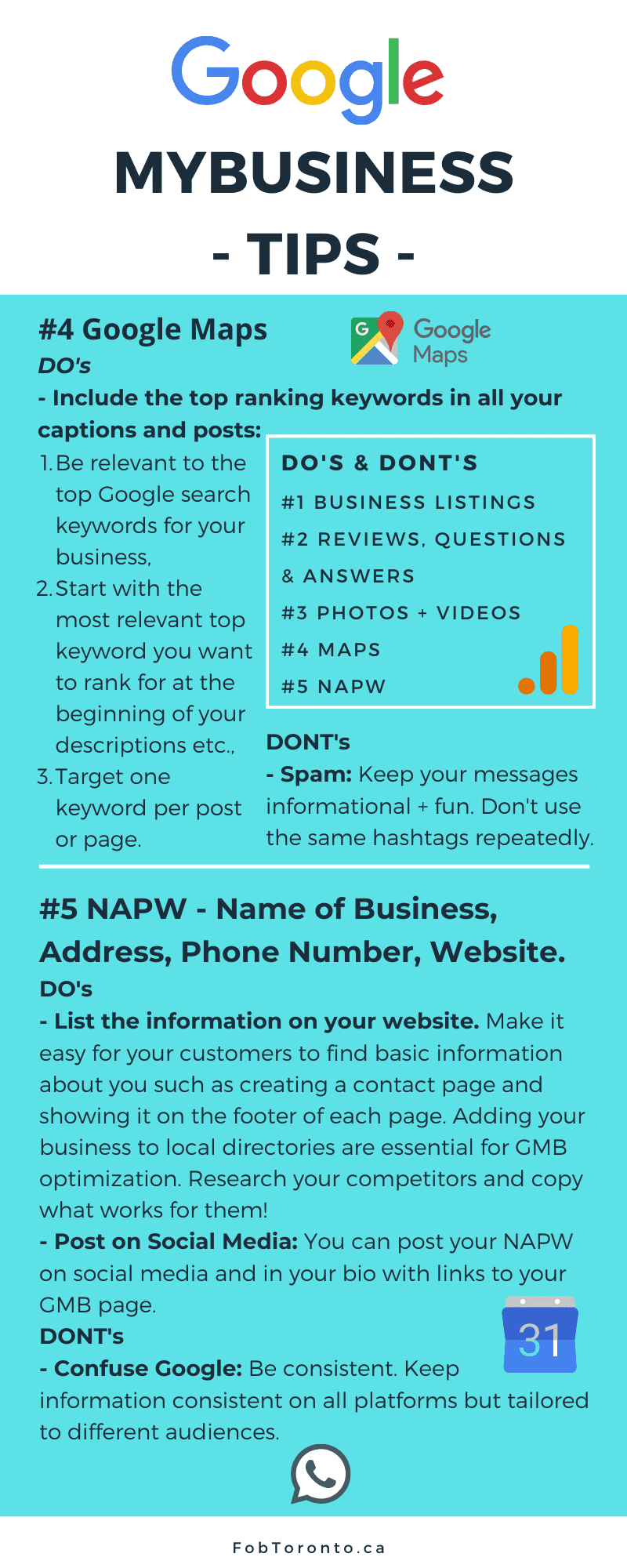 Thank you for reading our infographic about ways to improve your ranking on Google Maps and SEO. If you enjoyed reading this article, feel free to use the code below to embed this page onto your website. Please share with friends and family, so they can learn about google my business for apartments, google my business optimization ca and google my business guidelines.
<a class="embedly-card" data-card-via="https://embed.ly/code?url=http%3A%2F%2Fwww.fobtoronto.ca%2F2020%2F06%2F03%2Fgoogle-my-business-tips%2F" href="https://www.fobtoronto.ca/2020/06/03/google-my-business-tips/">Google My Business Tips - FobToronto</a><script async src="//cdn.embedly.com/widgets/platform.js" charset="UTF-8"></script>
Please visit fobtoronto.ca for more information about RFID, Code, and How Fobs Work.
Thanks for reading! Please check our most valuable blog posts:
What to Do After Home Break-Ins?